President Jokowi and Amanpour, CNN at Jakarta downtown
"You will be the 1st cycling President",
said Amanpour, Senior CNN reporter one sunny Sunday morning while biking side by side with President of Indonesia, Jokowidodo, well known as Jokowi at down town Jakarta city before interview in Istana Merdeka palace.
This image saw up in few seconds in CNN with several World leaders every single day before Breaking New begin.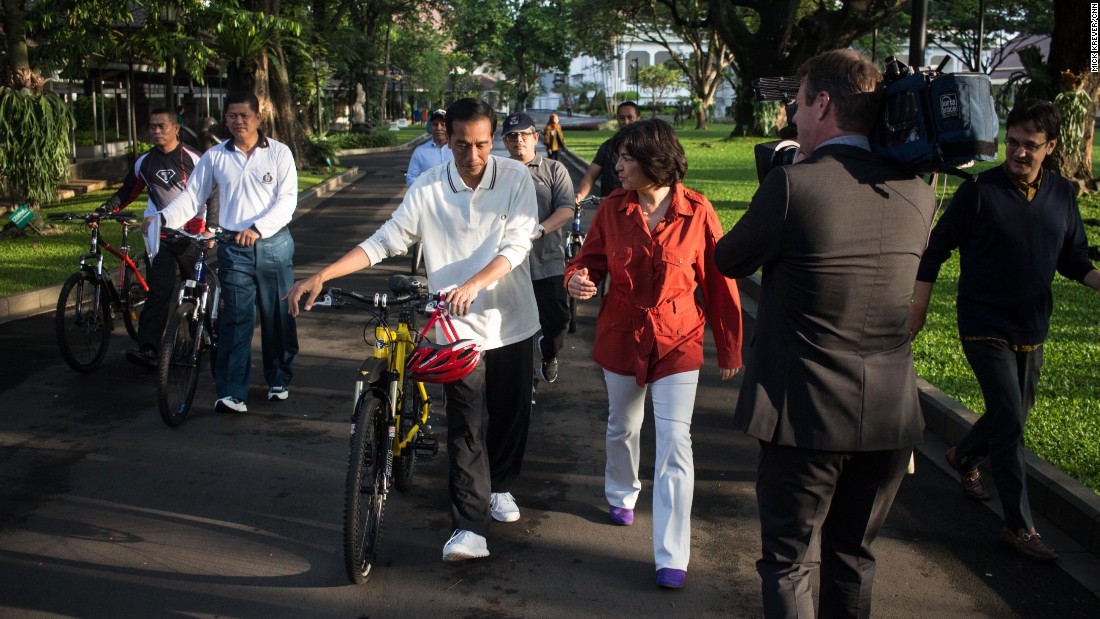 Enter Istana Merdeka palace
Cycling is regular people's sport in the country that President done regularly basis, long before he win President election at the end of 2014 ago when he was a Governor of Jakarta city. He preferred this sport instead of golf in order to close to regular people, talk and shake hand with them. So he knew what really matters not depend on formal reports, usually told a nice story.
More then decade ago, every early Sunday morning until noon wide road Jakarta city down town were car free day, the main road used for people sport, walking, running, biking. Two sides of the road used by Buses and private cars.
Some other time he visited another cities and took advantage of Sunday biking in crowded down town to greet local people and talk with them. The guards and security working hard to protect the President, but so far no treat wherever he was going. People love his simple performance, just wear a white long sleeve shirt, made in local tailor not import brand.
He was visited the field often to recheck the most basic need of the people like rice production. He tried a new tractor provided by the Government to the farmers in production center in East Java by pushed the tractor over the field, photo below.
President Jokowi (center) and a Agriculture Minister (right)