Never imagine a Bank who known as a rural Bank, low class Bank who served poor, low income citizen be able to own a Satellite. Indonesian people assumed that this Bank was a low class Bank compare to other Banks, State own or private one. Recently this Bank not only in the country but the only one in the World who own a Satellite.
The aim to operate a high cost Satellite is to serve the customers across thousand archipelago, remote villages and islands that not covered yet. All customers from a very small up to the Corporates could served/linked real time on line. The Bank customers in rural areas don't need to spend time travel far away to town to the Bank. Recently thousand of Networks, a very small Bank units spread all over the islands and the villages.
We are very proud to be part of this Bank in Computerization.. What I wonder is that BOD forget the history when my small team begin a pilot project of Computerization back then 25 ago in 1990s. About ten of my team start the project from scratch, Hardware and Software as well.
The Bank never say a words of our hard work and achievement how hard to introduced IT in a remote villages with unstable power supply or power supply off many times. Offices in hot climate without air condition.
BOD forget that we had to spend all night long to switching manual accounting to Computers, to train the personnel or to go down to the villages to fix Hardware or troubles shooting the new software.
Our team, path the way, managed the project properly by set up a Workshop in Jakarta first with many technicians, so we could handle the Hardware problems with lots of hi tech instrument before we spread to the regions. In short period of time, in 3 years we were accomplished 1.250 Banks, stand alone Personal Computers.
Harvard consultants who worked in our Bank released the report said that Human resources cut the cost of the small Bank units decreased to 5 %. It was amazing, how more efficient the Bank unit in the villages to increase the profit since then.
I ever remind the BOD about this story by send a letter, asked for acknowledgment but unfortunately they ignore no respond at all. Might be they assumed that it was our job to do and got salary and benefit as a Bank personnel.
Without our sharing, effort and hard work this Satellite won't be as successful as recently or at least will take more time for preparation of IT in thousand of small Bank units in the country. Many witness who were retired and some is still working like a Director of Bank BCA who ever been IT head division In Bank BRI.
But we love this huge Bank anyway, we proud of the Satellite to serve Indonesia citizen who never been serve before in real time on line..We do hope Bank BRI be numero uno, number one Bank in the country. Please never forget to share the huge profit to the retirements who built the rock foundation of the Bank.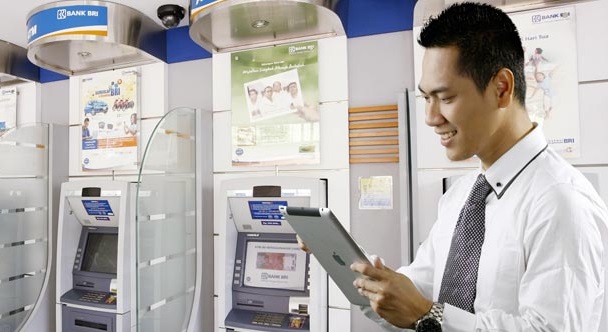 Poated by Pinondang Situmeang, former Project manager
Email : c2_pin@ rocketmail.com