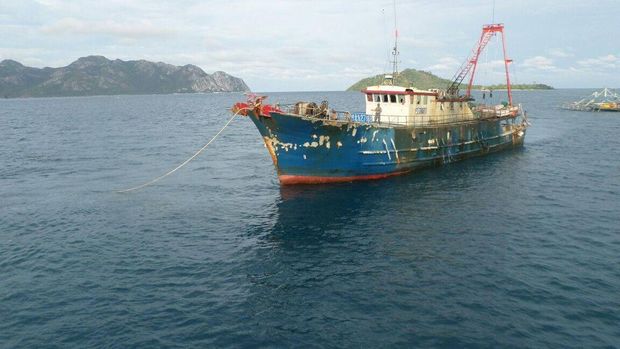 China boat Gui Bei Yu 27088. Foto by Koarmabar doc
Our country love peaceful relationship with neighbor countries including China. We didn't claim over Spratly islands or other islands belong to China. We kept good relationship especially with neighborough countries including China.
But China fisherman boat entered our water should be settle wisely by law. The first violation happened not long time ago. China fisherman boat entered Exclusive Economic Zone near Natuna island and caught by our Navy. China navy ship came to rescue the fisherman ship. China claim that the Zone is International water. Our country settled it by good diplomacy for the sake of the good relationship between the two countries.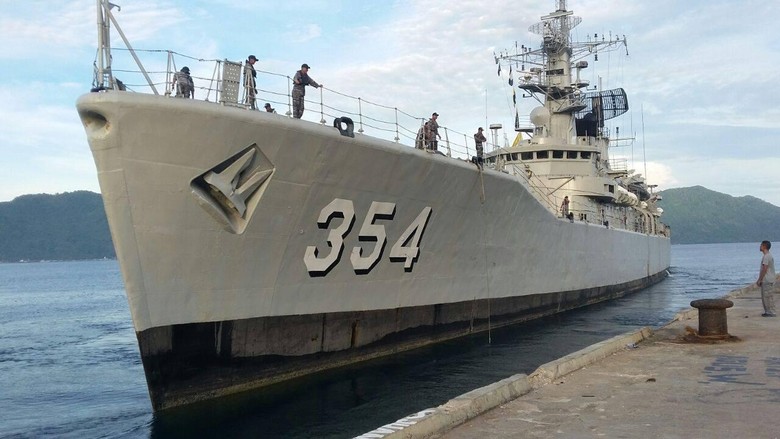 Oswald Siahaan ship, foto Koarmabar doc
The second case happened last week when boat with China flag, Gui Bei Yu 27088 entered our water in Natuna islands. Radar in Navy ship no 354 spotted suspicious boat and then forward to the spot. Initially, our Navy reminded the fisherman to stop. But they run away zig zag with 8 knots speed. Our Navy went after them speeder with 16 knots.
Based on SOP Navy ship first radio the boat, then voice. But kept run away. Then fired to the air, to the both sides of the boat and finally fired to the front of the boat. The boat surrendered and towed to Navy harbor along with the fishes and 8 crews. After check, the boat have no documents to fish in Indonesia's sea.
This case took a serious attention of Defense ministry, Politic and law coordinator ministry and Fishing ministry. They would settle the case as an individual case settle by the law, Indonesian law. Generally speaking illegal fishing in Indonesia will bomb the boats and sinking.
By captured this boat, we will show the World how serious we are to combat illegal fishing> So many boats bombed by our Government but foreign boats still coming illegally.
We urge foreign fisherman boats to get entry permit and have business legally, we have a huge sources of fishes. You welcome to our water make a good business in our country.
Postd by Mr. Pinondang Situmeang
Email : c2_pin@rocketmail.com