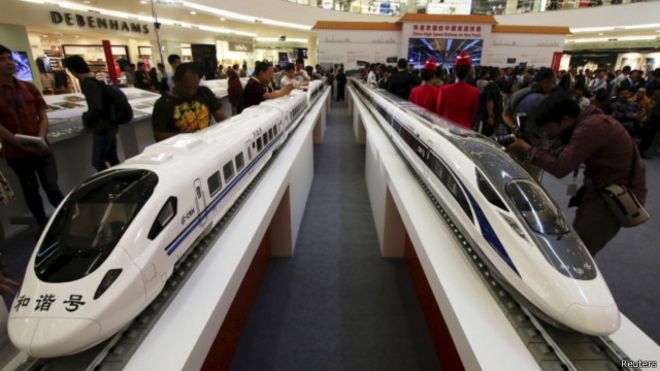 Thursday morning, January 12, 2016 President Republic Indonesia, Jokowi groundbreaking development of bullet train connected 2 big cities in Java island, Jakarta, capital - Bandung, West Java, 140,9 kilometers. The distance would take 35 minutes, 350 km/hour and carry 583 passengers. The train projected will carry 600.000 passengers a day. The fare Rp 225.000 equivalent US $ 16
The development will take 3 years and projected finished in 2018 and begin operation in the next year, 2019, the President period is over. The bidding between Japan and Chinese, won by Chinese without any guarantee from Indonesian Government, cost US.$ 5,573 millions. The budget not financed by National budget but 75% from China development Bank loan and the rest, 25% from the Consortium, since National budget will used for Infrastructure development out of Java island, like Sulawesi, Sumatra, Papua island etc.
The project will develop by a new company owned by both sides Consortium of China Railways and Indonesian Own Companies name P.P. Kereta Cepat Indonesia - China.
The train's aim are to accelerate passengers and goods between West Java and the capital. In West Java lots of textile products that buyers came from abroad like Malaysia and Arab countries. Bandung also build plane made in Indonesia and other products beside Bandung city offer a lots of tourist destinations.
The bullet train will not go through existing rail way but will be build in the new line, from Halim Perdanakusuma, in East Jakarta until to Tegal luar, Bandung pass 4 new stations become the new cities in the near future
Many questioning why developed bullet training in Java island again who had been available existing good train system. Why didn't develop out side of Java island. Also questioning about Environment appraisal done so quickly. For safety reason Environment take years to be completed.
.