Roll royce and downtown
Flooding the capital city of many countries in the world are common news, but flooding enter a President Palace is a breaking news and questinoable, especially about Water management system.
Police

team

rescue
It was happened early Thrusday morning, January 18, 2012 in Jakarta city, capital of Indonesia Republic when Argentinia President scheduled meet Indonesian President Susilo Bambang Yudhoyono at State Palace in down town Jakarta. The schedule cancel for an hour waiting for the road clear to go through.
In front of Hotel Indonesia & Hotel Mandarin
Cause of the flooding was, rain locally and upstream more than usual make a dam near down town broken 50 meters couldn't longer hold overflooding and instantly water out to the main road of down town where the business center and Palace located. In the yard of the Palace, water level touch 40 centimeters.
Water level
10 years before, in 2002 Palace also flooding until 25 cm cause by dam door forced to open by public (who faced flooding for days) and the flooding instantly direct went down town and Palace as well.
Actually 100 years ago when Indonesia under Dutch era, engineer
Ir.Van Breen had been built a Canal to turn Ciliwung river stream away from down town to the West and then direct to the sea. The Netherland well known in their skills how to manage water and sea, cause land level
are under sea level.
Jakarta village in flood
Beside, from year to year a lot of loan from The Netherland, Japan and other countries had been built water well, water doors, huge pumps in the spots needed. For instance huge pump,16 - 40 cubic meters per second, improvement of Canal capacity and many more.
President in front of Palace
Basically, the system was there to follow. The problems now in the hand of Goverment to operate and to manage properly that the water management very important for the society welfare. Missmanagent cause more harm and misery.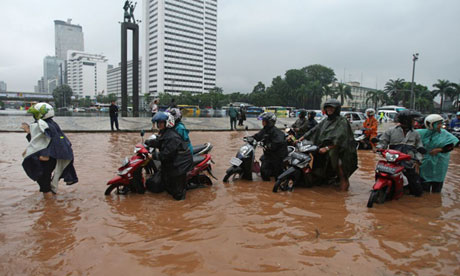 Water level in down town
The huge pumps were there, the Generator also available. Lets take a look how many pumps in full operation, how many breakdown. Where is the power supply come from by Generator or by Goverment company electricity ? In case flooding come, do the Generator have sufficient oil and
power ?.
Rescue the family
Not mention, the quality and the quantity of the operators. And more importan is the controllers and the head of water management who should take full resposibility of the flooding. No excuse away from the responsibility except in extra ordinary situation beyond human power.
Help each other and

Navy rebuild the wall